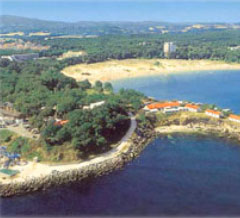 The Kiten Resort takes its name with pride. The soft climate, the clear nature and the hospitality of the people charm visitors from all over the world.
The present resort town was formed in 1931, mainly by the refugees from Greece but also by other people from nearby settlements, who were attracted by the wonderful sight.
Since 1970 Kiten has become a place of multinational tourism.
Kiten is prosperous resort, which many tourists from different countries choose as destination and enjoy the Kiten Rosort in small private hotels, accommodations, rest homes and camps.
Kiten is on the sea shore of the Black Sea between two municipal centres - Carevo (10km) and Primorsko (5 km).
Various attractions are available, such as an Aquapark, water slides, fun-fair, etc.
The Souther part of the Black Sea, in which the Kiten Resort is found is the best choice for people who want to be close to the nature, and at the same time enjoy their holiday a in romantic atmosphere by the sea:
picturesque bays and extensive beaches with sand dunes reminiscent of the deserted pacific paradise islands;

shallow and safe sea at 100 m from the waterside;

romantic peninsulas and picturesque rivers, where the white water-lilies grow, the centuries-old forests and small antique settlements;

contact to the unspoiled beauty of nature